Birgit Nakielski:
an experienced
English-German 
translator based in Berlin
Translation is all about trust:
So when you hire a translator, you need someone you can trust.
At the most basic level, you can trust my almost three decades of experience translating English to German for companies big and small, along with what amounts to years spent living in the United Kingdom, travelling in the US and now back in Germany.
But you also need to be able to trust that what I write in German reflects your original intent.
It's not about a one-to-one translation. Any machine or anyone with a good dictionary can do that. It's about applying a deep understanding of the subtleties of language and culture, nuances in tone, idiomatic expressions, along with genuine specialisation in your area of business. For me, these areas are waste management, construction and building materials, and tourism. Let me know if you need something different: You can trust me to be honest about my experience, and recommend another translator in my network if that's the best approach.
Resist the temptation to entrust that task to machines. You have spent time producing your marketing materials, technical documentation, business correspondence and all those other documents. To get them translated, you need a native German human translator with personal experience, insights, creativity and research skills to match. Trust the expertise of a specialised translator who knows what she's doing. Trust me. 
It's this commitment to quality and understanding of what my clients need that has sustained my business since 2005 and as an employed translator since 1994. It makes me proud to have built up so many lasting, positive relationships with good clients throughout my career.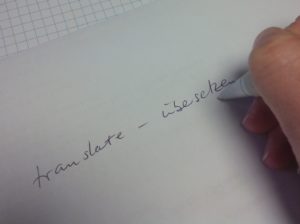 If you're looking for a translator you can trust to deliver the goods – fast, accurate, reliable and pleasant to work with – you've found her.
Contact me by phone or email today – I am looking forward to working with you.